Saint John Paul II granted pontifical approval to the international association of Christ's faithful, Heralds of the Gospel, on February 22, 2001. So this date, on which the Feast of the Chair of Saint Peter is commemorated, is very special to the association. Received through the Pontifical Council for the Laity, the papal approbation is the Catholic Church's official recognition that the specific charism of the Heralds of the Gospel is a gift of God and constitutes a new instrument for evangelization in the service of the Church and the world. In commemoration of the first anniversary of its pontifical approval, the Heralds launched a monthly magazine. From its beginning in 2002, its circulation has not ceased to grow.
Informative and formative content
In view of spreading the Word of God and more important news affecting the Church in the world, and, especially, to provide a solid Catholic formation to families, Herald of the Gospel Magazine offers a broad range of articles for all ages and interests, while always strictly adhering to the teachings of the Holy See. In doing so, the magazine has become in its own right, step by step, an instrument for the apostolate and has proven to be a very effective means to respond to the Church's call for a new evangelization capable of reviving faith in today's secularized world.
Beauty above all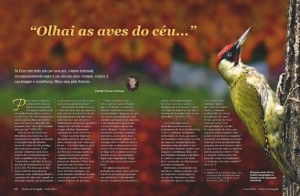 At the same time, the publication seeks to express that key aspect of the charism proper to the Heralds of the Gospel by using the special attraction and fascination that beauty has always held over the human soul in order to lead men to once again recognize God's reflection in His creation. It was in this context that Pope Emeritus Benedict XVI repeated the famous phrase of Dostoyevsky that "beauty will save the world." Heralds of the Gospel Magazine seeks to do this by richly illustrating and framing its articles in a deeply spiritual context when presenting Catholic doctrine or reporting on major news events affecting the Church.
Publication and circulation
The magazine is entirely planned, designed and published by members of the institution.  While most of its articles are written by priests and lay members belonging to the Heralds, in order to better achieve its goal of contributing to the human and spiritual formation of its readers and their families, it also relies upon the invaluable collaboration of some of the greatest personalities in the Catholic world.
Enjoying a circulation of more than a million copies in four languages: English, Portuguese, Spanish, and Italian, the magazine's current circulation extends to every country in the Americas and many more in Europe, Africa and Asia. Significant excerpts of articles have also been translated into other languages.
New Subscription/Renewal Online Payment
How do I subscribe? contact us!
or call 1-800-674-3410